An old story I made from 2015 about Curie and SS. It's the first time I ever really wrote anything so I suppose it could be kind of cringe haha.
---
Curies Curiosities
The tension was high in the Memory Den. Even Dr. Amari seemed a bit worried about the procedure. She'd never transferred the software from a Mr. Handy-esque robot into the body of a synth. Would they even be compatible? Maybe Curie shouldn't go through with this afterall.
It wasn't up to you to decide such things. This is what Curie wanted, and if she was willing to go through with the procedure, she should have the right to. She was sentient, afterall. It wasn't until only recently that she had expressed her concern at the lack of her ability to obtain more knowledge in the body she was given. This was for the best. For her..
Her new body was.. not your traditional 'attractive' looking female. For some reason though, you couldn't lift your gaze off this synth, sitting so still in this memory lounger, like a sleeping life-sized doll. This process was so weird.
"We're ready to begin." Dr. Amari uttered, a small quiver of uncertainty in her voice.
"I am ready, doctor." Curie said excitedly. It should only take a couple of seconds if all should go as planned.
With your eyes shut tight, hands clenched into the shape of a fist, a wave of anxiety rushing over you as your heart rate increased to what seemed like a mile a minute, you hear a loud "THUNK!"
What seemed like hours turned out to only be about 5 seconds long. Your eyes shot open, wide and aware, beads of sweat trickling down your forehead. Curie's body was lifeless on the floor, nothing more than a pile of shiny white robot parts.
"Curie? How do you feel?" Dr. Amari had asked. Your eyes darted over to the memory lounger and fixated on the synth.
"I feel.. strange… I.. I feel!" Curie exclaimed. She began to rub her hand up and down her arm slowly, examining her new body. She reached her hands out in front of her, wiggling her fingers and begins to giggle.
"I can't believe it! I can feel my skin.. I can feel my heart racing!" She began to stand up, only to clumsily fall back into the chair.
"Careful Curie, it will take you some time to get used to your new body. You will be experiencing an overwhelming amount of new sensations and emotions. I'm sure your friend here won't mind helping you up and guiding you." Dr. Amari pointed towards you and motioned back towards Curie.
"Oh, of course! Where is my head." You said, shuffling over towards Curie to help her out of the memory lounger.
"I'm glad the procedure was a success, and I'm very happy for you Curie. However, if you two don't mind, I've got many a task to attend to now, and I must be going. You may let yourselves out when Curie gets her bearings. Take her to the lobby and have her relax, Irma is out for the evening, so stay as long as you like." With that, you take your leave with Curie, your hand rests lightly on her hip, while her other arm is around your shoulders.
You can feel the warmth of her skin through her shirt. These synths really do feel human. Heartbeat now back to a normal pace, some warm waves begin to wash over you now, concentrating on your hand. Curie keeps slipping as she's not used to walking on two legs, and soon you find your hand has traveled up further than what must be appropriate. Resting on her ribs, just below her breast.
Upon reaching the lobby, you help Curie to sit down on Irma's chair. She seems overwhelmed. As she leans forward to rest her head in her hands, your eyes follow her every movement, only to end up focused on her chest. Her shirt was barely buttoned shut, the top edge of her breast poking through the opening. Raising up and down, up and down, Curie's breathing seems too rhythmic to be at all human.
Your pants begin to tighten and you can't stop staring, hoping that some form of magic from the cosmos will just shoot down like a bolt of lightning and unbutton that last top button. It's only around this time you realize how much of a huge pervert you really are.
"I.. I feel strange." She whispered. "All these new feelings, I am so overwhelmed. I feel like I want to touch everything. I want to feel the physical touch of everything around me, to experience it. You've helped me so much, and I have to admit I have been drawn to you in a way that I cannot yet understand or explain. Thank you." She said, as she leaned back onto the the sofa. "I hope you don't mind, but please, I must let my body be free at this moment. Since we are the only ones here, I hope you will not mind." Her thick french accent was music to your ears, entrancing and almost ethereal. The robot tone was now gone, but something about it still seemed other-worldly.
Curie began to disrobe, unbuttoning her shirt from the bottom. Only then did you realize what she actually said a second ago.
"Whoa! H-hang on.. I.. I'll just wait outside." You exlcaim, face turning red.
"Please, do not go. I'm happy to share in these first moments with you."
Curie's shirt popped open, exposing her absolutely perfect tits barely covered by a thin tank top. The shape of her nipples elegantly poking through the fabric. Whoever designed these synths sure knew what they were doing. The glow of the low-light against her delectable porcealin skin was like looking at the moon on a beautiful starry night. If the moon was two perfect tits with puffy pink succulent nipples that you just want to wrap your mouth around.
It was this moment when you realized there was no way in hell you were going to be able to contain yourself. Curie began to remove her pants, slowly, your eyes trailing her long legs. Just as you turned around and were about to take your leave, as the thought of jumping right on this poor girl was too much to bear, she begins to speak.
"I am so taken by how everything feels against my skin. The softness of this couch.. the smell of the air in here.. It's perfect. I just want to feel everything. I want to feel..! I'm sorry.. I.. I'm just struggling with all these new feelings in this body. I find myself aching with desire.. when I think of you. Like I want to be filled up by you.. I want to feel you. Please, will you help me?"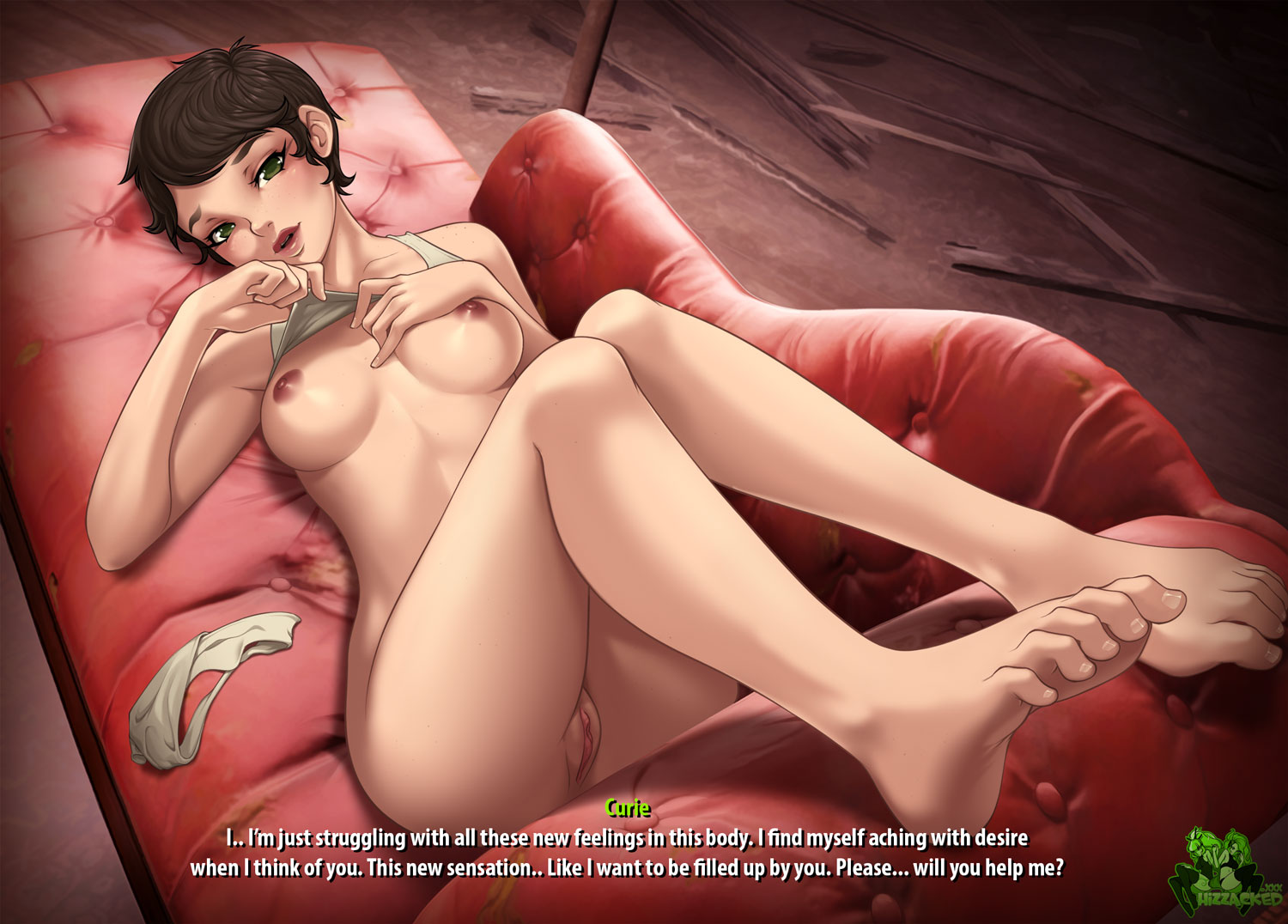 You turn around faster than the tasmanian devil on a tilt-a-whirl, eyes wide open. Curie was almost completely nude, nothing more than a dirty tank top, lying on this couch like a shy old-world porn star. Her big doe eyes gazing up at you, her delicate hands trailing along her body. It was happening. This shit is happening NOW.
Containing your excitement like a true gentlemen should, but barely able to control the shaky eagerness of your hands, you popped open the button of your trousers. The sound resonated in your head, how was this about to happen? Curie was so sweet and cute, how could you go through with this. She's too innocent! Let her experience some other things first before you defile this perfect specimen.
Well, there's no way that's happening. As you approach her on the sofa, unzipping your pants slowly, her eyes fixated on yours, you slide your hand down your pants and begin softly stroking your cock. It's already rock hard, but it just feels wrong to whip that thing out right in front of what basically looks like an innocent puppy.
"Please, let me see you. I want to."
Jeezus. You're dyin' here. Sweat begins to trickle down your face again, a few drops slipping right off your brow and straight into your eye with dead aim. Your eyes now shut tight, your hands are no longer on your cock. Instead, someone else's hand is. It's Curie's. Those delicate little fingers have already wiggled their way into your pants in a split second and pulled your dick out with an audible *flop*.
Looking down, although blurry, you see two big beautiful green eyes staring up at you. Her hands look positiviley microscopic compared to the size of your junk. Her face contrasts nicely with the sheer size of your cock as she gently kisses it, struggling to hold it in her small hands. As she kisses it up and down, somehow it's getting even angrier. It's grown harder than it ever has before, this moment truly must be something from the story books.
She takes a deep breath and pops the tip of your dick into her mouth. The warm, wet sensation of a soft mouth seemed a distant memory of the past. It's like you are experiencing it again for the first time. Her tongue twirls around your dick, even though she can't seem to fit more than the head of it inside. Who even cares, at this point you're feeling great, nothing can possibly compare to this.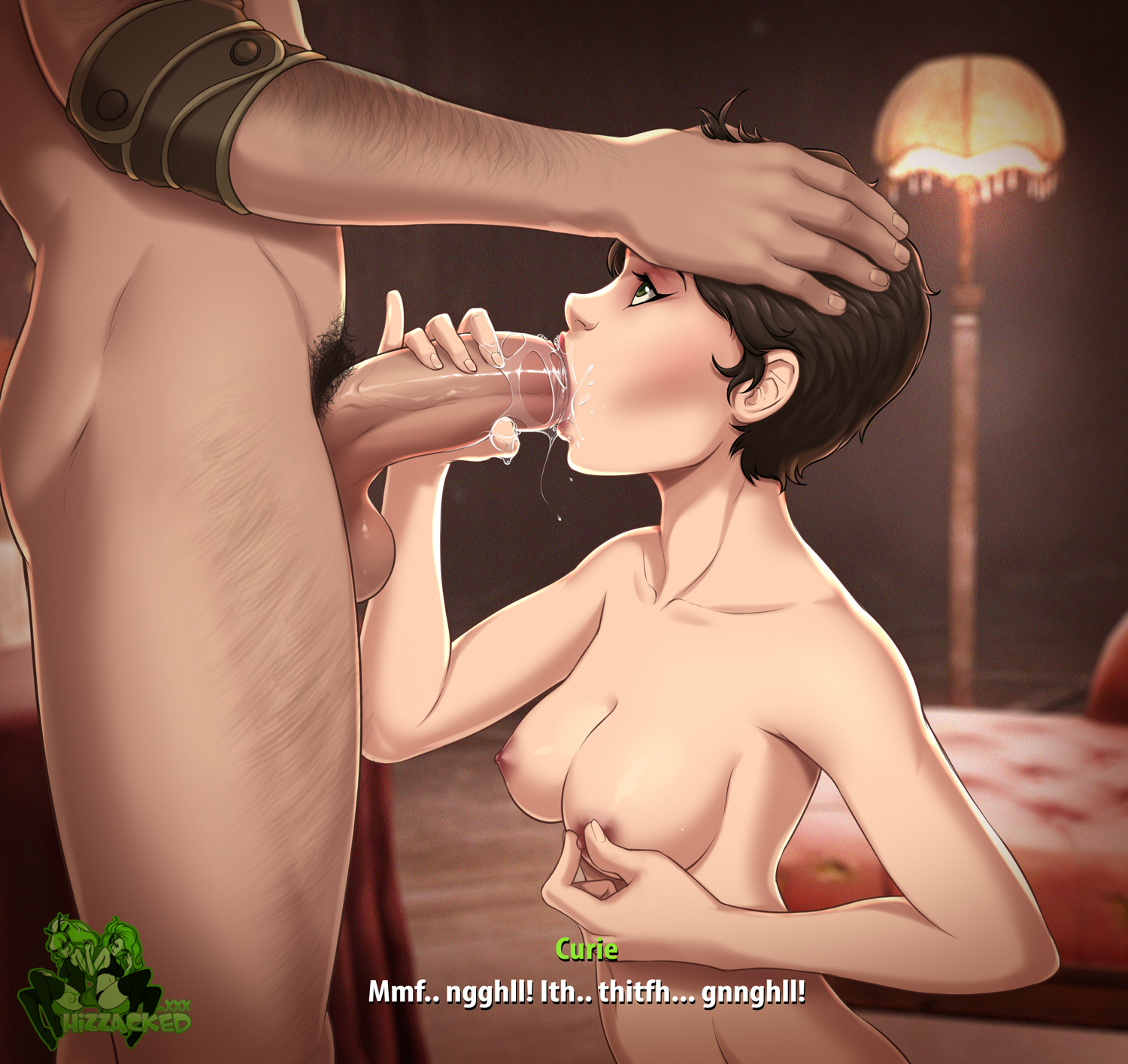 Just as your body begins to succumb to the epic feeling, she pops your dickhead out of her mouth and begins suckling on the tip gently. Her tiny kisses feel heavenly, as both her hands are still firmly wrapped around the shaft. Throbbing for more, unable to contain yourself any longer, you take her by the shoulders and push her back on to the sofa. She gasps in delight, an an innocent giggle escapes her saliva coated lips.
Even before her body makes contact with the sofa, you've spread her legs wide open, only to expose the most perfect pussy you've ever seen in your life. Pink, glistening with juices. Trying hard not to be too rough with her on her first time, you gently spread open her pussy lips to expose some elegantly cute pink butterfly wings. Your fingers trail every detail of her pussy, as you slide your finger slowly up and down the crease, teasing her lips and clit. Her breathing begins to intesnfiy, silently moaning with pleasure. Her hands begin to grip the edges of the sofa as she pushes her crotch closer to you, rhythmically, using your fingers to rub her parts from clit to entryway.
"My body can't take this anymore. I need you to fill me. It hurts so good, please. Enter me!"
With that, you powerfully slide your finger into her pussy hole, feeling this beautiful artificial woman from the inside. It's crazy how realistic everythings is. The soft smooth surface of the upper part, the delicate ridges of the walls. Everything is just perfect.
She can't get enough, you eagerly slip another finger inside her as she grinds her pussy against your hand. Her g-spot is fully engorged as she hammers it against against your fingertips. Curie's eyes are shut tight, panting like a dog, saliva begins to escape the edges of her mouth as she silently screams. Her pussy clenches tightly around your fingers in what feels like a vice grip as she orgasms, her juices soaking your entire hand. The throes of pleasure seem almost too much for her to bare, she just can't stop. Cumming twice, three times, as you're sitting there pretty much doing nothing.
These synths sure seem to know what they're doing, you thought to yourself. A second later, the contractiions of Curie's tight pussy seemed to have stopped, as her walls loosen from around your fingers. You slide them out slowly, they're soaking wet, glistening with what seems like honey. Curie is blushing madly.
"I don't know what came over me, monsieur. I.. I hope you don't feel differently about me now. I just can't seem to get enough… but I think I will be oka-"
Interrupting Curie's ridiculous apology, you sit up a little higher on your knees, dick in hand, and begin rubbing it lightly against her pussy. Teasing her clit, rubbing it up and down the soaking wet folds, resting it lightly against her opening. She begins to squirm again.
"Oh, please! Please, I beg of you, please enter me. I want you."
Gladly. Driving this girl crazy seems to really get her off, but you're sick of waiting. Her warm wet pussy is too inviting wait any longer. Slowly at first, you steer your huge cock into this impossibly tight cunt. The head of your dick disappears in an instant, swallowed up by the throbbingly hot edges of her pussy. More and more of you disappears inside of her, as she moans and exclaims in some weird robot-french language.
It dawns on you that she might be too inexperienced, too tight, too.. whatever! Maybe she can't take your cock after all. More and more slides slowly inside of her, making her shudder with what seems like overwhelming pleasure. Her satisfied look makes you disregard your previous thought, as your entire dick is now deeply socketed in her tightly robed cunt.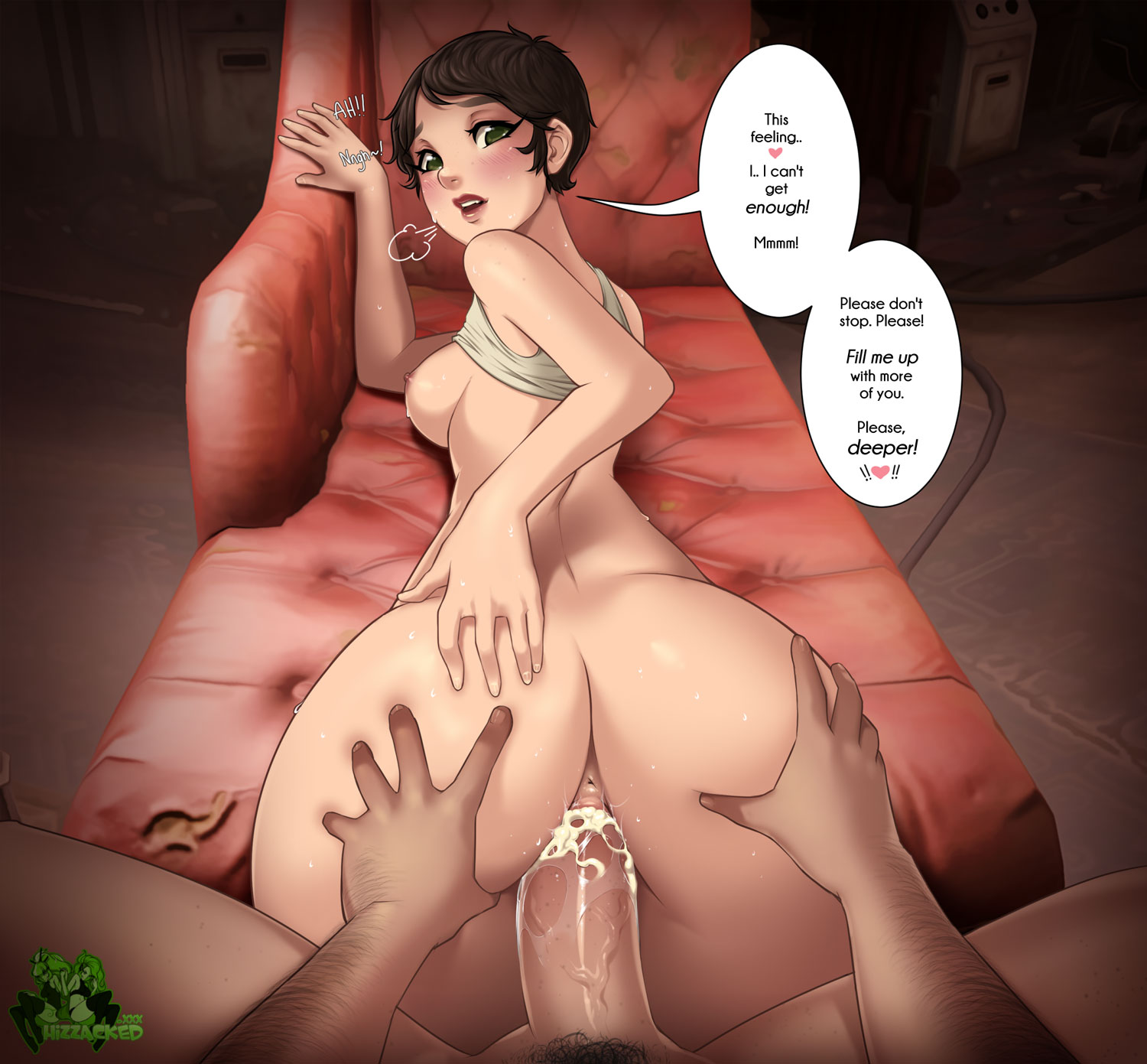 It's only a matter of seconds after you begin to thrust back and forth that this sex crazy android is already riding you like a triple crown jockey. Her hips gyrating and thrusting up and down on your throbbing cock, taking in more and more each time. She is absolutely insatiable. What seemed like innocence in the beginning was quickly becoming a thought of the past as she pops up and down on you. You begin to penetrate her back, clashing together like two bodies should really become one.
You reach down and pull her close to you, engulfing her in your embrace, hanging on so tight you're pretty sure her head may pop off. The both of you grinding your hips together so powerfully, in the perfect rhythm, her breath hot in your ear as she cracklingly moans. Pleasure has begun to overwhelm your entire body, waves of heat washing over you like a hot blanket.
Just as you're about to blow your load deep into this androids pussy, she screams "FUCK ME! Fuck me monsieur!!!! Oh please, fill me! Nnnghhh!!"
How did she even know that term?! Without a second thought, the passion so great, your vision begins to go white as your cock starts pumpinghot cum deep inside her. She's still grinding, milking every last drop out of you, her delicately small pussy now seeming positively insatiable, begins to tighten once again around your member. The grip is strong with this one, like a pillow lined vice, as she slides up and down with incredible force on your cock. She moans in pleasure as her juices multiply, the two of you in the red hot heat of intense orgasm, bodies shuddering together as she digs her nails deep into your back.
The rhythm slows to a crawl, her hips exhaustedly bucking up and down as she still tries to wring every last drop out of your cock with her tired, satisfied cunt. Her body goes limp, but thankfully you've still got her pinned against you in your grasp.
"I.. I can't believe it. I can't believe this is what it feels like to be human. I want to try more things, many things! I want.. I w-want to.. be with you, if you don't mind. Please.. teach me.." Her voice shaky, there's no way this girl could go another round. Is there? She's still begging you for it, begging for more. Her eyes seem giant as she looks up towards you with that face, that "pleeease daddy!" face.
Driven wild by that look, your dick is already stocked up again for another go. You gently lift her body off of you, the warm embrace of her pussy around your dick now gone, and set her gently down on the sofa. She stares at you longingly, back to that innocent damn look, and smiles. Oh come on, stop looking at me like that. That's all you can think at this moment. You're about to take this woman's ass, and she's looking at you like you just gave her a lollipop or something.
Flipping her over so you don't have to stare into those eyes and have second thoughts about what you're about to do, you slide your hands down the length of her back and rest them on her soft, springy ass cheeks. You rub your hands up and down against her bum, and cautiously give one of her cheeks a light spank. She gasps and looks back at you with a confused look.
"Ummm.. trust me?" You utter like a high school idiot with a pre-prom goofy grin of low self esteem. She smiles back, worriedly, and relaxes her head down onto the sofa.
Heart racing, unsure if this is going to be okay with Curie, you gently spread her ass cheeks to expose her incredibly cute asshole. This is the kind of asshole you only see in fictional fantasy porn from 200 years ago, not on a real woman. It's pink, it's shiny, and cringeingly adorable, and your'e about to defile it. How could you?
All right, here goes nothing. With the tip of your tongue, you begin teasing the area. Not directly on it, but just around it. You can't help yourself but to keep looking up and checking to see if she's looking back at you like you just killed her cat. Nothing. No reaction yet whatsoever. Feeling a little more confident, you trail your tongue around the edges of her pleasure hole, poking at it lightly, with some wet kisses in between. You can tell now that Curie's breathing has started to increase pace again, it's now or never. You hurriedly slide your tongue into Curie's asshole, eyes still fixated on the back of her head, praying that she likes it and doesn't turn around and give you a slap.
She begins to moan. Her grip on the couch tightens again as you plunge your tongue in and out of her asshole. Her hips begin to slowly move up and down, as they previously did on your hand, it's clear your tongue isn't enough for her.
You raise your hand up and stare at your fingers, tongue still deep in Curie's ass. There's no going back now, this is it. You hesitantly bring your fingers closer to the target and poke at her center with the tip of your finger. She begins to moan louder and raises her ass up a little more for a more welcoming entry.
You slide your sopping wet tongue out of her, and quickly slip your finger in knuckle deep. She moans loudly and bucks her hips to a full paralell angle with the ceiling. Sliding your finger out only makes her clench her ass around it even more as if she never wants it to go away. Two fingers in now, then three, the time has come to take this girl's ass cherry.
You slide off the couch and onto the floor, positioning Curie's hips with the edge of the sofa so that only her ass and legs are dangling over the side. Cock in hand, you raise yourself up on your knees and position your cock right between her cheeks.
"I.. I am unsure if you will fit there, monsieur! I'm just.. a little worried.. please, be gentle." She says, biting her lower lip and gazing into your soul with those damn eyes of hers.
"I promise." You reply, still eager to get up in there ASAP.
Her hole is still dripping wet from when you ate her before, ready to receive your cock.
"Just breathe, relax." You say to her, as you slowly slide the tip of your massive dick into her butt. She clenches her fist and her asshole right around the tip as she bites down hard on her lip, squinting her eyes.
"O-Okay.. I will relax." She wimpers with a happy tone.
You're such a caring guy. Not only are you defiling this poor woman, but you're also taking pleasure in it. Something about being the first, it's just such a powerful feeling. Over time you thought you could develop feelings for this girl, had she not been a cold hard ball of steel. Now, things seem different.
All these thoughts rush through your mind as you slowly push you cock deeper in to her ass. After the initial entry things seem to be going better, and Curie has loosened her grip on the leather of the lounger, and relaxes her ass for a more welcoming entrance. The tightness is unreal, almost as tight as her pussy felt when she was in the midst of her climax. Soft, warm and wet. You're almost all the way in when Curie begins to slide herself down deeper onto your cock with a sigh of pleasure escaping her lips. Her face is compeltely relaxed, almost completely back in to that lustful gaze she gave you only moments before.
"I am in shock it will fit there. I must remember th-this.. ecstacy.. for science, of course!" She exclaims with a devilish giggle. Your magic dick really seems to be bringing out the best in this nymphomaniac android.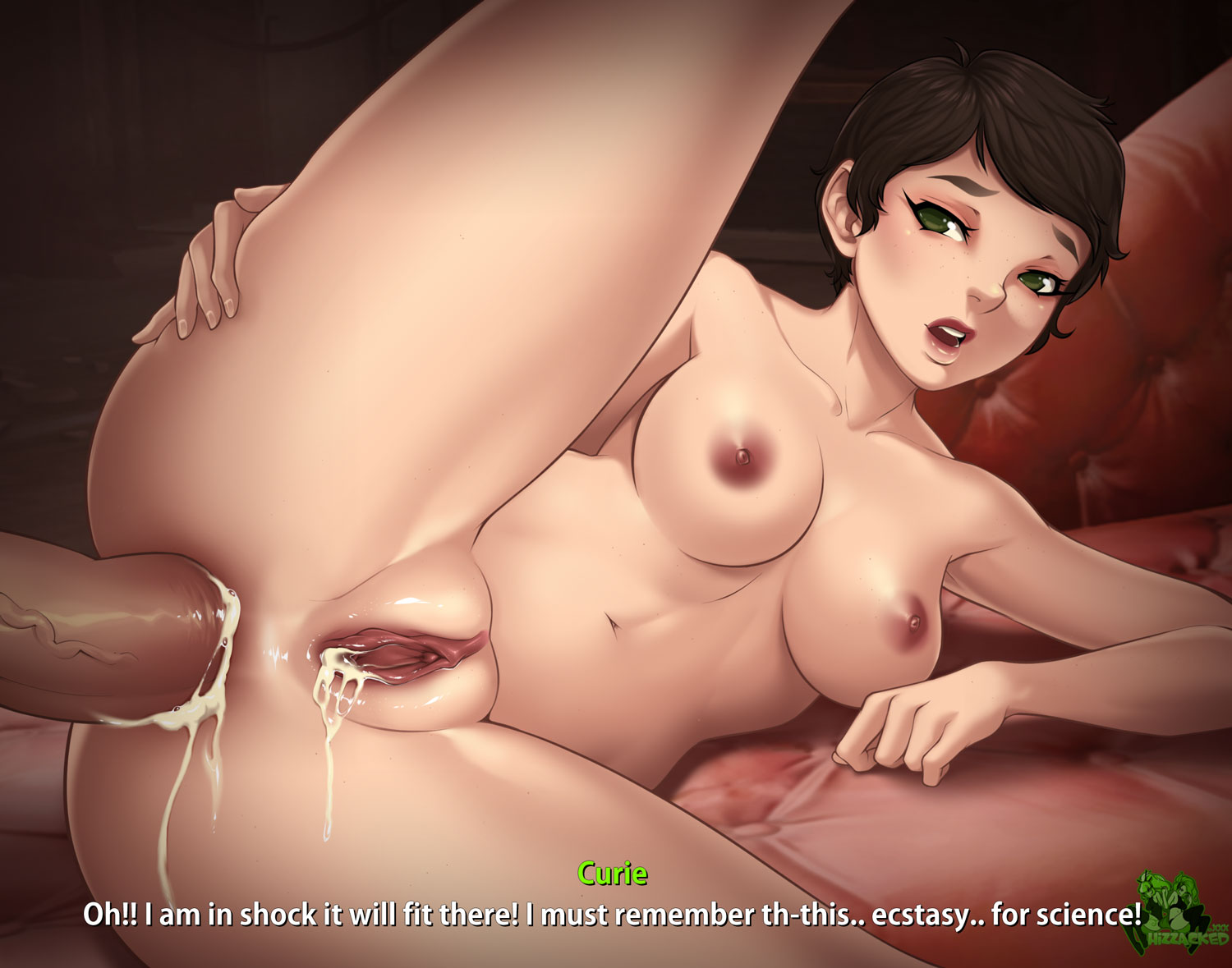 She's bobbing her hips at a faster pace now, ridding your cock doggy-style while you get to stare down at her bouncy ass as it slaps against your hips. Honestly though, now's the time to take control. You reach down and grip both her cheeks tight in your hands and pull her down on to your dick. It's time to dominate this girl. It's been too long since you've had this opportunity.
Cheeks in hand, you begin thrusting your cock deeper and deeper into her ass with no remorse. Curie is writhing in pleasure as she let's you take her body, completely giving herself up to you. She reaches for the end of the couch and holds on to dear life as you pound away at this man-made perfect woman, the fluids building up around the rim of her asshole only to be pushed back inside with every thrust. She's moaning so loudly, even though nobody is around, surely someone will hear her. There's no way they won't.
She begins to shake with pleasure, the shudders create a pleasant vibrating sensation. It's clear she's getting close again. With thathought, you let go of her ass and reach around and under to rub her clit, placing the other hand on her hip as you drive your dick so deep in to her fuckhole that you might literally be re-defining the word 'screwing'.
It's almost over, with every flick of her clit she's getting closer, the hole is getting tighter, so you plunge your fingers deep in to her cunt and squeeze, hammering away at her G while you hunch over her, furiously fucking the bottom out of this girl. She's cumming, she's cumming hard. Your fingers feel as if they're turning blue with the tightness of her contractions around your digits, and the tightness of her asshole is almost unbearably hard to fight, there's no way you can hold back any longer.
The white-out is back, your vision begins to get blurry, but not before you see Curie's eyes rolling back as she let's out a bellowing moan. Your dick explodes with pleasure as you start to cum again, filling Curie's asshole with spunk. Still thrusting away, the cum starts to squeeze out the sides only to drip down into her pussy that you're still firing away at with your fingers, creating some kind of magical double dipped creampie. You join Curie in moaning as the two of you howl in pleasure, echoing off the walls.
It's almost over now, you slide your fingers out of Curie's pussy, still dumping your load in to her ass, and shove them in to her mouth to let her get a taste of the love ingredients you two have made together. She sucks them dry and moans with pleasure as you finish pumping every last drop of cum in to her asshole, filling her to the brim.
She collapses on to the couch as you release your hand from her hip, popping your dick out with a sticky afterglow of semen that keeps the 2 of you roped together until it finally snaps as she hits the leather. Panting and drooling, she looks up to you as you slide back on to the heels of your feet, unable to catch your breath. Your eyes meet once more, the both of you covered in sweat and sex, and the most peculiar smile grows across her face from cheek to cheek, as she's still licking her lips clean.
"Merci!" She exclaims, her breathing labored as if she'd just ran a marathon. "I.. have learned so much from you… th-thank you. This feeling… I must have more of this.. Tell me, what shall we do next?"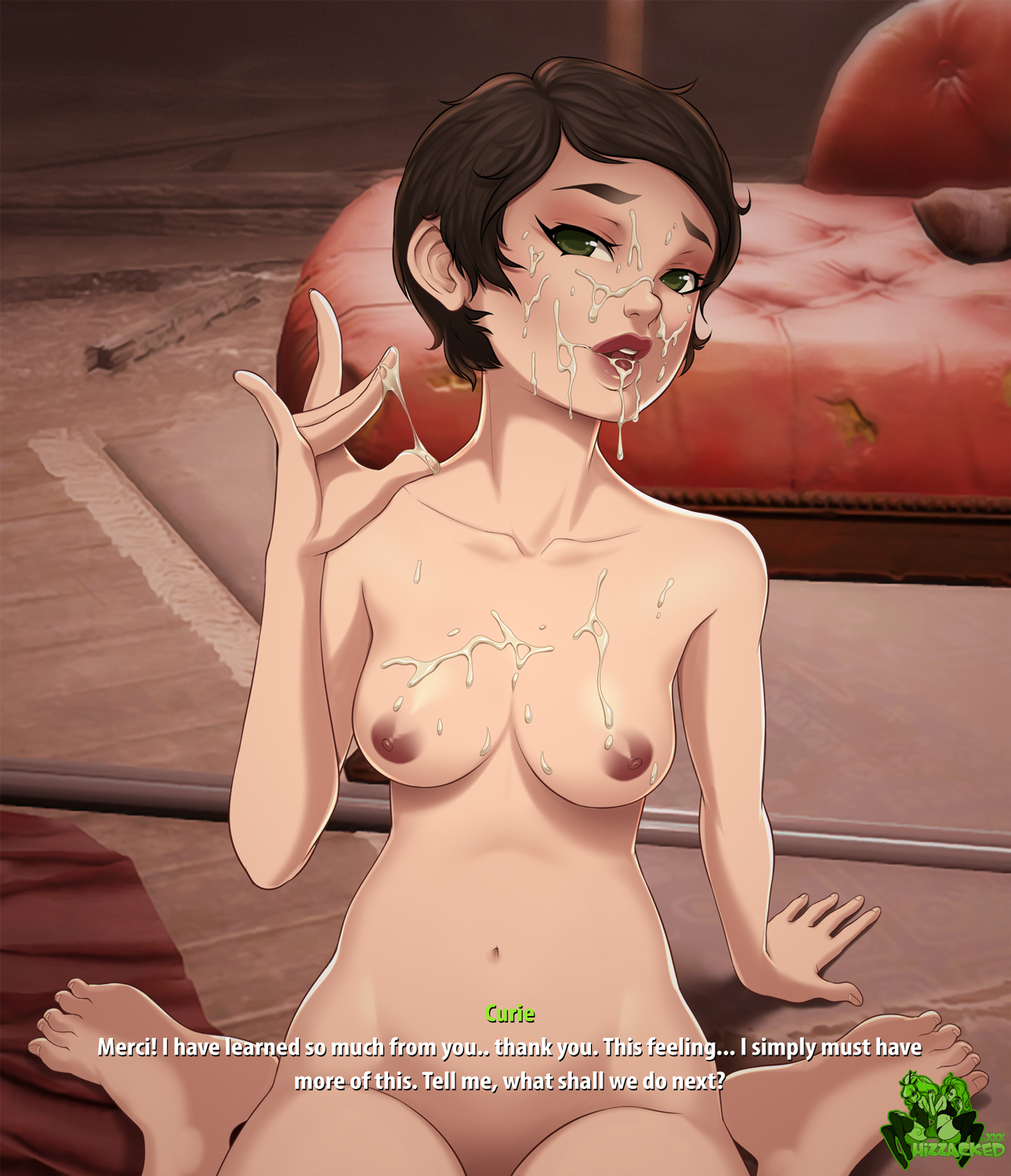 https://www.hizzacked.xxx/wp-content/uploads/2022/09/image_2022-09-25_105820664.png
432
658
hizzy
https://www.hizzacked.xxx/wp-content/uploads/2022/10/sig2.png
hizzy
2022-09-25 18:01:43
2022-09-25 18:02:48
Curie's Curiosities